Dized Promotion December 2022:
A Grand Holiday Giveaway
PROMOTION RULES
The Promotion
This Promotion is organized by Dized (Promoter).
The Promoter's legal business name is Playmore Games Inc, Finnish Business ID 2616425-7.
The Promoter's address is: Dized (or Playmore Games Inc), Opastinsilta 8 E, 00520 Helsinki, FINLAND.
Promoter can be contacted at

[email protected]

.
This promotion is in no way sponsored, endorsed, administered by or associated with any social media platform.
This promotion is governed by the Laws of Finland.
Prizes
Main prize: A collection of board games that have a Dized Tutorial with an MSRP value of over 1,000 USD.
Secondary prizes: Various board games that have a Dized Tutorial
The prizes are sponsored by the games' publishers and are shipped by the Promoter.
Entering the Promotion
Entering the Promotion (Participating) is done by subscribing for a Dized+ membership, or by buying a Dized+ Subscription Redeem Code by the end of December 11th 2022.
This promotion is available only for subscribers of the Promoters' service and cannot be Participated otherwise.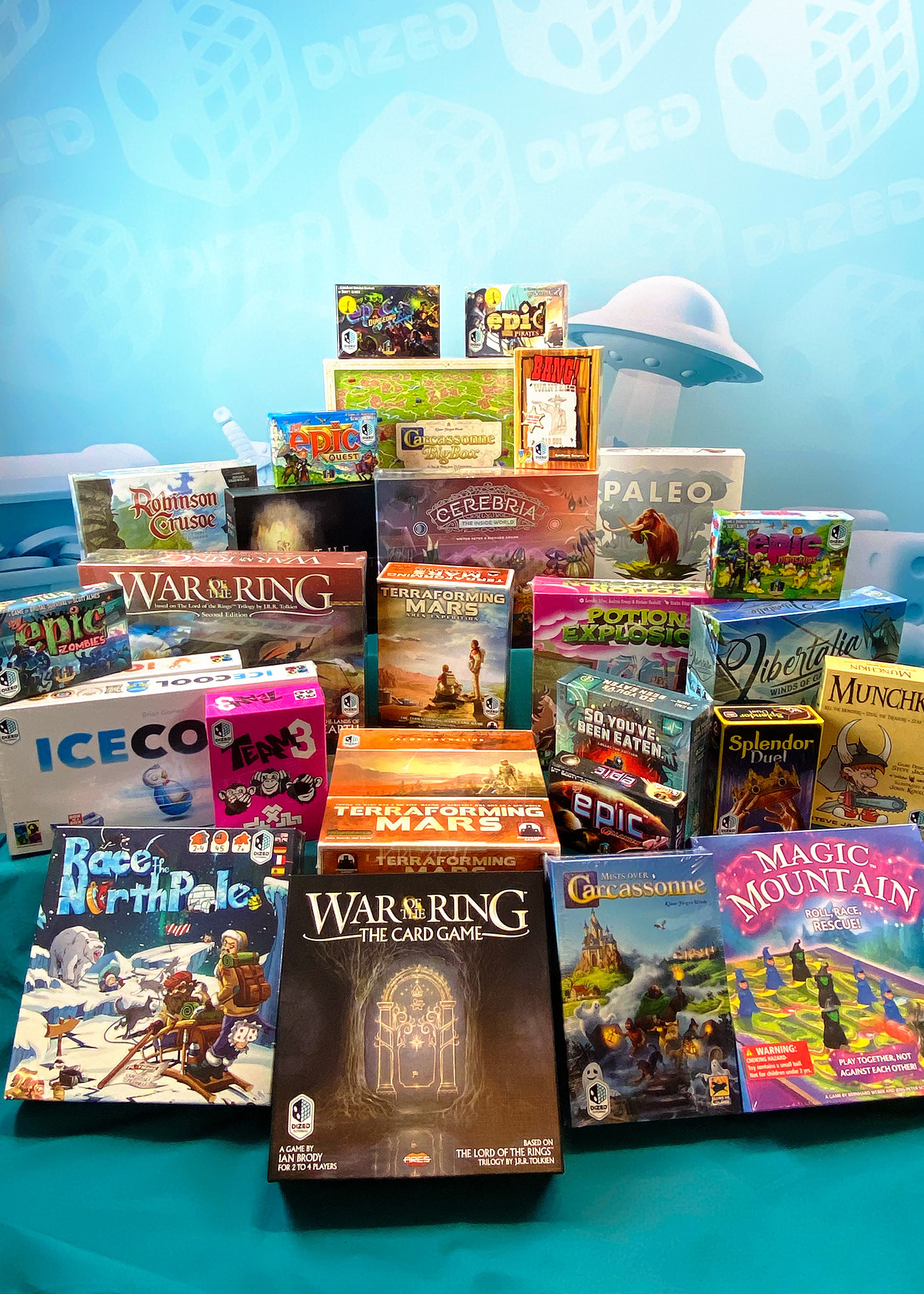 Duration
Promotion starts on Monday November 22nd at 12 noon GMT.
Promotion ends on December 12th 2022 at 8am GMT.
The winners are notified via email during the week starting with Monday December 12th 2022.
Eligibility
The Participant must complete the condition for participation (See Entering the Promotion).
The Participant must be a natural person.
Each Participant is allowed one entry for their active Dized+ Subscription, and one entry for each annual Dized+ code they've purchased.
Winners & Prize Delivery
The Winner will be selected at random among the eligible participants (see Eligibility).
The Winners will be contacted via email.
If a Winner doesn't respond to the contact try within 3 days, they will automatically forfeit the prize. In this case a new Winner shall be selected and contacted using the same procedure.
Prize is shipped by Promoter via method of their choosing. For this the Winner is asked to provide a delivery address and contact details. Shipping within Europe and North America is included in the prize, but for shipment to other regions the Winner may be requested to cover additional shipping fees. If additional shipping fees are requested and the Winner fails to cover them within 7 days from request, they forfeit their right to claim the prize.
The Promoter makes an effort to ship out the games quickly so that the Winners would get their prizes for the end of the year holidays, but cannot guarantee a delivery in time for any specific date.
Data Collection and Handling